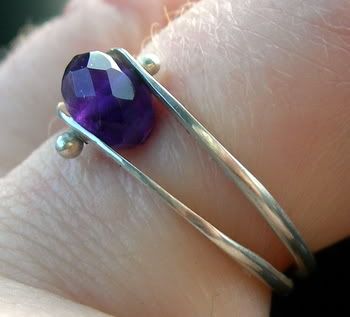 I have to start out with a disclaimer.
This is not a traditional jewelry making tutorial. This is more like an outline of the technique that I use. It was originally written for a friend who has quite a lot of metalsmithing experience, so it was more of an outline or framework for her to see how I go about this process. I kept imagining I would redo the photos so each step is clearly captured and rewrite the text to make more sense for those who don't have a lot of metalsmithing experience, however that hasn't happened (and its been a couple of years I think!) so I'm just going to put this out here now the way that it is…well, with a few minor edits.
Supplies
Wire – 12 gauge
Wire – 20 gauge
Rondelle Bead
Manilla folder, water, dish
Hammers (forming, rawhide), bench block or anvil
Nail
Sharpie
Ring mandrel
Files, sandpaper
Soldering supplies – flux, solder, torch, third arm, pickle
Begin by soaking small pieces of the manilla folder in water. ( I leave mine soaking for days, but you can soak them for as little as half an hour)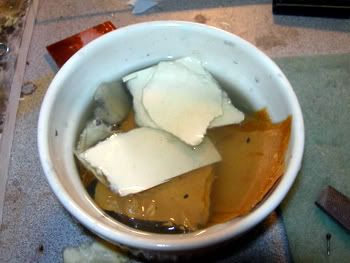 Wrap the 12 ga wire around the ring mandrel about a half a size larger than you want the ring to be. (some of the size will be taken up by the bead)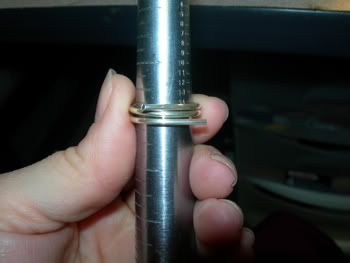 Cut into rings.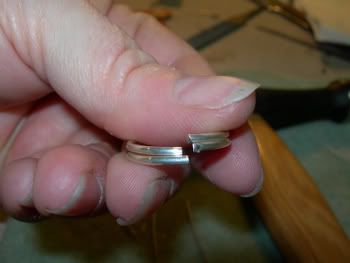 Next, file ends smooth so you have a flush join to solder. (no pic)
Flux and solder joins on each ring individually.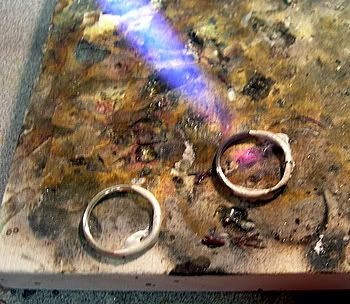 Return rings to mandrel and use mallet to true up the ring(s) into a circle.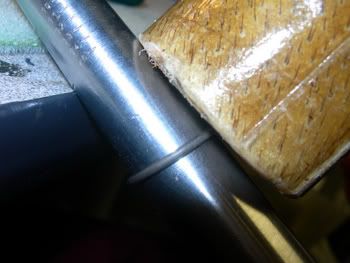 Forge one end of each ring on the bench block with a planishing or forging hammer just enough to create a flat profile.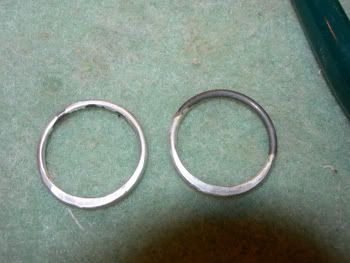 Then forge the other end of the rings into a sloping area which will eventually be drilled for insertion of wire to hold bead. (sorry no picture of the second side being done)
Next prop rings open on the wider forged end so you can solder the more lightly planished ends together to form the base of the ring shank. (this photo was taken as a 'set up' – in reality the open ends would be planished flat as well)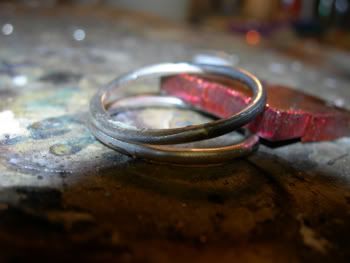 Flux, solder, pickle.
Gently close the shank and file all edges to create a uniform appearance (no photo)
Mark center of top of ring, create a divet with hammer and nail.
Lube your drillbit and drill hole(s)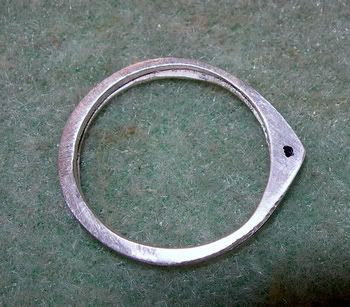 Cut a piece of 20 ga wire – you want it long enough to go through the ring, the bead, and form a ball on each end.
You are going to use this wire as your double balled 'pin'. You will want to measure this wire before you melt your first ball so that you can calculate how much wire you'll need for the second ball.
So, measure, then go ahead and melt a ball on one end of the wire. (make the ball as large as aesthetically fits your design).
Now, measure how much wire you have left. This will tell you how much wire you used to make your ball ( [original length – (current length-ball) = amount of wire 'in' your ball] you're going to need to know that later).
Next you need to wrap the bead in wet manila folder paper, insert the packet into the opening of the ring, thread wire through your drilled holes.
Cut the end of the wire so that the proper amount for your ball is extending from the other side.
Thread another piece of the folder onto the wire (on the outside of the ring)
(Optional: Take another piece of the folder and wrap it around the top of the bead.)
You now have something that should resemble this: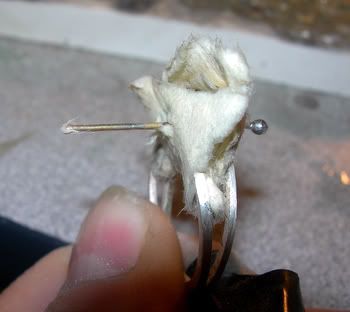 (but the amount of wire protruding should be trimmed way back! this is left long so you can see )
Suspend the entire packet into a third arm with the exposed wire hanging straight down towards your bench top. Heat to melt the second ball. (this photo is after I torched the second ball)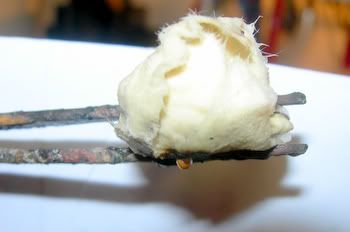 The 'trick' is to use a HOT tiny flame. I turn the gas on very high and then crank up the oxygen to obtain a very hot very tight flame.
*NOTE* The first two times I did this, I did NOT wrap the bead first and it worked fine. Wrapping the bead DOES take up some room so when you are done you may have a slightly looser join. When you remove the folder you will have a tiny bit of space. Very tiny. If you do it that way and don't like it, try just threading the wet paper on the outside and then wrap the outside of the bead. The end result will be tighter.
FYI: I have NOT had the paper catch on fire. At the very end it will smolder and singe a bit, but thats it. Here is a pick of the singed paper: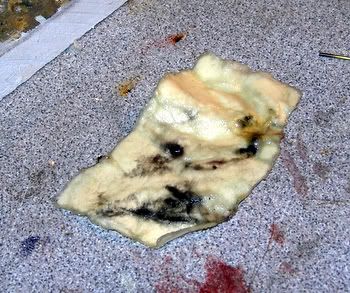 Here is another finished ring. This one turquoise.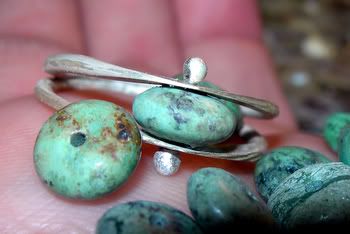 If it can work on turquoise, then its probably fairly safe on a variety of stones, HOWEVER, I highly recommend you practice with stones that you wouldn't be heartbroken to lose as with any new technique it can take some time to perfect.
This process was first mentioned to me by Karen Christians (of Cleverwerx) as she was experimenting with it after watching glass makers work with hot glass using wet newspapers. It took me a long time to give it a try but I have found it works well.
I hope you find this useful information!
Other areas you might find interesting
Other helpful posts:
Patina on Sterling
Jewelry Making Tutorials – Metalsmithing and WireWorking
References:
Melting Temperatures
Scrap Metals Refiners and Returns
Comments
comments