Color on Metal – Out of the grey and into the blue.
MANY artists use liver of sulphur (LOS) to create a black or grey patina on sterling. But that is not the ONLY color range that LOS offers!
With a little tweaking of the solution, you can achieve variations from reddish brown to blues and purples.
By varying the concentration of the LOS mixture and also the temperature of the mixture, one can get reddish colors – brown, and also blue to purple and adding other components to the mix achieves even brighter blues and purples.
LOS comes in chunk, liquid, and even gel form now. The following observations have been made using chunk form mixed with warm water to dissolve.
Dark grey or black – a strong mixture of LOS in relation to water is used. If the mixture is hot, the patina process will go MUCH faster, creating a deep black very quickly. (be careful, sometimes this can apply such a thick layer that it will flake off) When desired color is achieved, rinse metal in cold water to interrupt the patination process.
Reds and browns – a weaker mixture of LOS/water is used. AND a more ambient temperature solution. Dip metal quickly and don't rinse. Wait and watch colors develop. Keep dipping and watching the process.When desired color is achieved, rinse metal in cold water to interrupt the patination process.
Blues and purples – a weak mixture of LOS and water. . . or day old mixture may be used. Add industrial strength ammonia to the mixture. (this is 'professional' grade cleaning ammonia, ensure proper ventilation when using) Heat metal. (can be done by running under VERY hot water). Dip quickly or paint patina onto metal. Watch CLOSELY as color develops. The metal will go through stages of color. Repeat the heating and painting process until the desired colors are achieved, rinse metal in cold water to interrupt the patination process.
Here is a picture of a sterling piece done in this manner:
Red, blue, green, maybe purple can be seen, and it has an irridescent quality to it.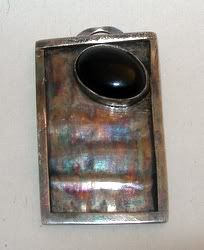 Here is the reverse side with no flash on camera:

Patinas are not always stable. They can change over time. For this reason, a sealant is often used. Either wax of some sort – Renaissance Wax is a favorite among many; or a fixative spray (Nikolas lacquer has been highly recommended) to preserve color but note that anything placed over a patina will change the effect to some degree as it changes the way light plays over the surface of the metal.
Below you can see the same piece after about 7 mos in a drawer, in no protective wrapping and NO sealant having been applied. Unfortunately the photo itself is pretty poor, there is a lot of glare, however the blues/greens/reds are still visible in various places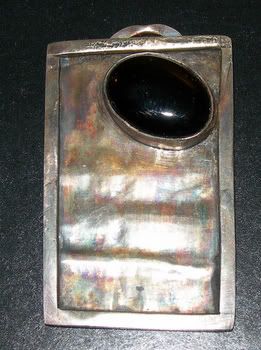 and the back 'after' picture:
This pendant was colored using day old LOS soultion that had faded to a weak yellow/straw color.
Straight ammonia was added to the LOS solution. There is no need to be specific with ratios, one of the joys of patinas is in experimentation.
The room temperature mixture was 'painted' on with a papertowel very lightly, wiping dry, then applying more,then wiping dry until the desired colors were achieved.
The nice thing is if you go too far you can take it off and start again.
One tip – KEEP a notebook for patinas handy on your bench. Record your process including:
patina ingredients and amounts
meta used
temperature of solution
temperature of metal
method of applying (dunked, painted, misted, etc)
time left on
rinsing in between applications (if any)
repetition of process (if any)
General instructions for LOS in chunk form:
Use a heat tolerated container. Add a quarter cup of hot water. Add one small chunk (a little less than the size of a pea). Wait for it to dissolve. Swirl container to mix.
The LOS is ready to use. Mixed LOS solutions are not very stable. They will degrade over time and usually are not saved. however, for some of the color variations noted above, retaining your mixed LOS can serve a purpose!  LOS will weaken overnight, losing its color (turning more clear) and eventually have a skim or flakes on the surface. When the LOS solution gets to that point – it's dead. ..inactive, and can be poured down the drain (from what we've read). If your solution is still yellow, it is 'active' and should be disposed of according to your local requirements.
More on patinas coming soon!
See more Tips & Tricks
Free Jewelry Making Tutorial – Dual Balled Ring
Comments
comments